Catamarans in Guanacaste – Private charter boats
Catamaran Sailboats in Guanacaste for Private Charters
Book your custom designed sailing catamarans for private charters in Guanacaste
Our sailing catamarans in Guanacaste are the best in Guanacaste, and we operate all along the coast from Papagayo ( Four Seasons Papagayo, Andaz Papagayo, Secrets Papagayo, Planet Hollywood, El Mangroove, Exlusive Resorts, Peninsula PapagauoPapagauoPapagauoPapagauoPapagauoPapagauoPapagayo  ).
We also offer private catamaran charters in Playa Hermosa, El Coco, Ocotal, Riu Guanacaste, Riu Palace, and the beaches of Flamingo, Potrero, Conchal, Las Catalinas, Tamarindo, Langosta and other beaches.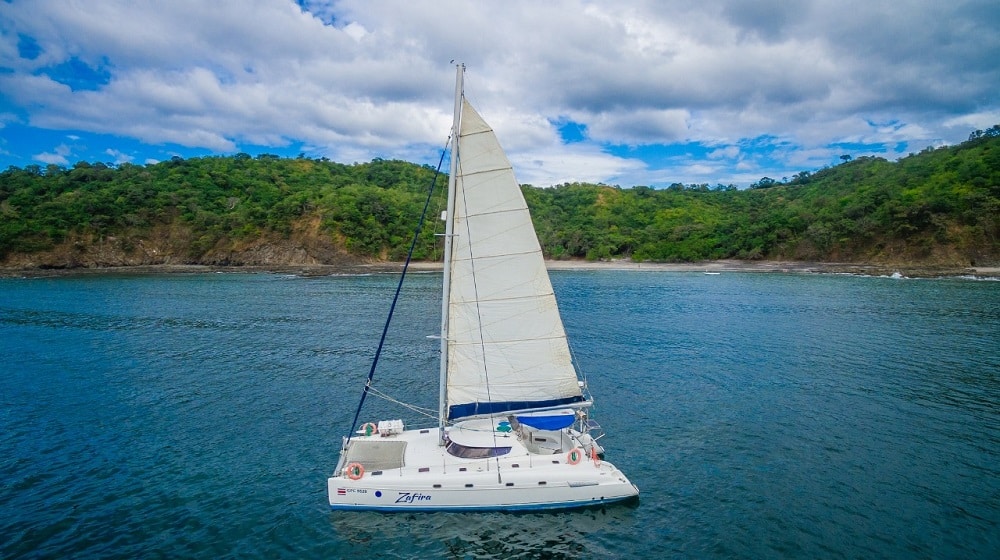 Private Catamarans
Our private charters take place in different catamarans, depending on the budget and the number of people.
Sailing on a catamaran in Guanacaste is an unforgettable experience, due to the calm waters, the scenic beauty and the activities we include.
Catamaran sailing
Sailing in a catamaran is much more stable and spacious than the classic sailboats, for obvious reasons. Therefore, there is much more deck space, and also seating area, both shaded and open air.
All have a trampoline in the front, which is the favorite place to sti for most clients during our private trips.
You might very well also spot wildlife during our trips, including dolphins, sea turtles, and even whales, especially humpback whales during the specific whale seasons which is January to February and August to October.
Activities included:
– Paddle Boarding
– Own music
– Trolling fishing
– Open bar
– Light meals and during the full day tour also full lunch
Tours available
We offer several types of private charters. The half day morning tour, the afternoon tour or Sunset Sailing and the full day private charter which runs from 10am to 6pm, just in time to return in time to watch the sunset.
Some of the most popular catamarans in our fleet are:
Papagayo, Riu, Hermosa, Ocotal, El Coco.
– The 46 foot DU catamaran ( Fountain Pajot )
– The 40-foot PureLeben ( Lagoon )
– The Altarix ( 46-foot Fountain Pajot )
At Conchal, Las Catalinas, Flamingo, Tamarindo and Conchal
– ElSafiro ( 47 ft Fountain Pajot )
– ElAlma ( Ideal for large groups ) 50 feet Lagoon
– ElMantis ( Ideal for small groups )
Please remember that we can pick up clients at most of the beaches directly in front of the hotel, and in the case of hotels located in the hills or more distant from the beach, you have to get to different docks that we have or we can help arrange transportation.