Private half day morning catamaran sailing charters in Guanacaste
Come join our private morning half day catamaran sailing charter.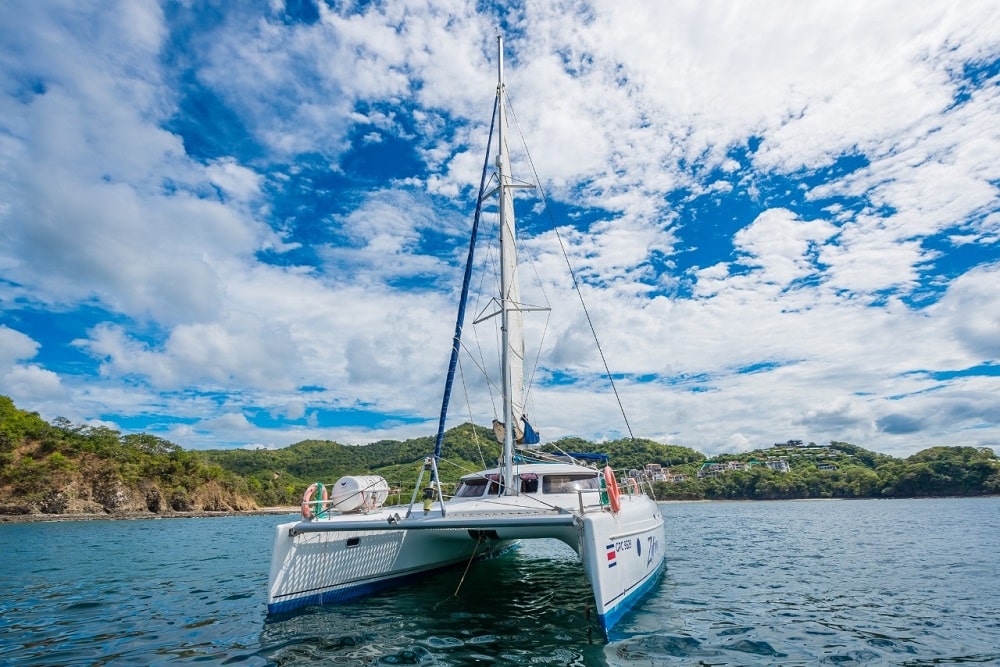 Morning charter includes:
Schedule: 8 30 AM to 12 30 PM
Included: Open bar, paddle boards, snorkeling, real sailing, the best catamarans, friendly and knowledgeable crew, visiting a secluded beach.
Imagine waking up early on a clear Costa Rican morning, enjoying a cup of coffee while watching the sun rise over the Pacific. You board your private catamaran and set sail for a day of exploration and relaxation. This dream can become reality with a morning sailing charter in Guanacaste. Spend your day cruising along the coast, stopping at secluded beaches for a swim or snorkel, then enjoy a delicious lunch on board before heading back to port. Whether you're an experienced sailor or just looking for a unique way to experience Costa Rica's natural beauty, a morning sailing charter is the perfect way to relax and indulge in some quality time with family or friends. Contact us today to learn more about booking your own unforgettable adventure!
If you're looking for an experience that combines sailing and secluded beaches, look no further. Snorkeling and paddle boarding are also available if you're feeling adventurous, and the Guanacaste coastline is absolutely beautiful. Whether you're a experienced sailor or this is your first time on the open water, you're sure to have a great time on this unique charter. Contact us today to book your spot!
Snorkeling and paddle boarding
Are you looking for a fun, new way to explore the ocean? Why not try snorkeling or paddle boarding? These activities are perfect for people of all ages and experience levels. Whether you're a beginner or an expert, you're sure to have a great time!
Visiting a secluded beach
If you're looking for a secluded beach to visit, the catamaran is the perfect way to get there. With plenty of swimming and relaxing ahead, it's definitely a day worth taking advantage of. The beaches on our route are typically deserted, so you'll be able to enjoy all the privacy you're looking for. And if that's not an incentive enough, we always provide lots of refreshments for our guests! So come join us on one of our catamarans – the perfect way to spend a lazy summer day.
Dolphins and whales
You might perhaps watch dolphins swimming along with the catamaran.
Have you ever gone dolphin watching? It is an amazing experience! You get to see these beautiful creatures up close and in their natural habitat. If you're lucky, you may even get to see a pod of dolphins swimming together. Here are some tips for making the most of your dolphin watching excursion.
Private catamarans available
Morning half day charter ( Private)
Sunset catamaran charters ( Private)
Full Day Catamaran Charter ( Private)
Hotels we pick clients up
Papagayo, Papagayo Peninsula, Papagayo Gulf, Playa Hermosa, El Coco, Ocotal, El Mangroove, Four Seasons Papagayo, Occidental Papagayo, Andaz Papagayo, Bahia Pez Vela, Riu Guanacaste, Riu Palace, Tamarindo, Conchal, Flamingo, Las Catalinas, Langosta, Potrero, JW Marriott, Hacienda Pinilla and more hotels in Guanacaste.
Boats available
Catamaran sailboats
Sailboats
Yachts
Activities included
Snorkeling
Paddle boarding
Fishing rods ( request )
Visiting a secluded beach, swimming and enjoying nature
Open bar and food is also included