Private Guanacaste Sailing Charters
Catamaran sailing charters in Guanacaste
Did you know that Guanacaste is one of the most popular destinations in Costa Rica for sailing? Visitors can explore the coastline and beautiful coves on a catamaran. The weather is usually perfect, sunny and blue, with sunny skies and moderate temperatures. If you're looking for a unique way to experience Guanacaste's gorgeous beaches, consider booking a catamaran sailing tour. You won't be disappointed!?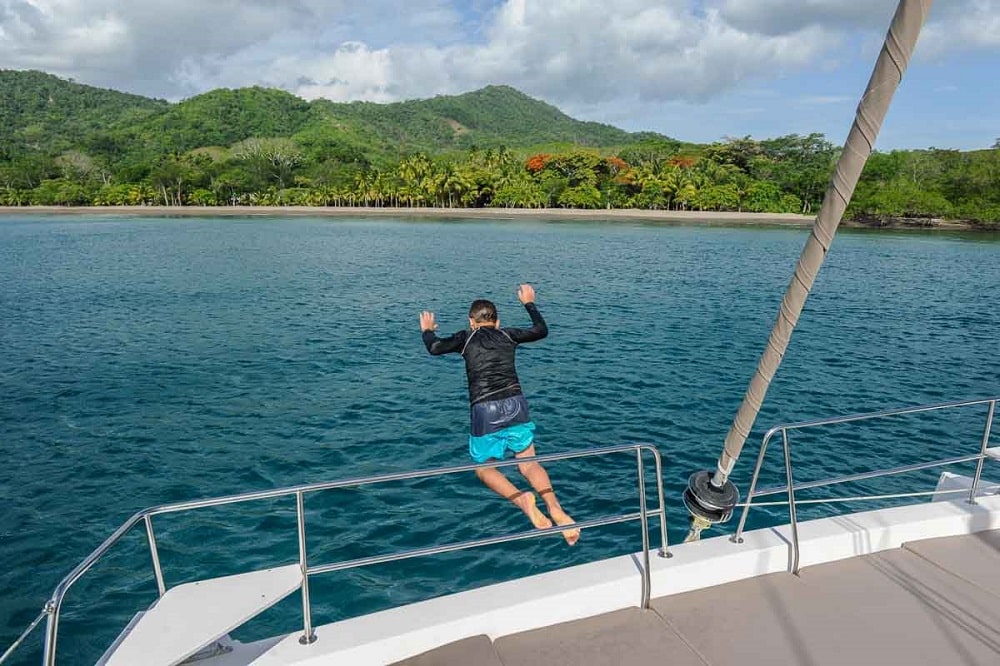 Private Catamaran Sailing
Snorkeling 
Many people think of Costa Rica as a great place for a beach vacation, and they're right – Guanacaste is home to some of the best beaches in the country. But what many people don't know is that the region is also a great place for snorkeling. With its crystal-clear water and diverse marine life, Guanacaste is definitely worth exploring under water!
Paddle Boarding
We also include paddle boards in most cases ( please inquire in advance ).
If you're looking for an adrenaline rush, then paddle boarding in these waters is the perfect activity for you! Paddle boarding is a great way to explore the coastline and get up close and personal with marine life. Not to mention, it's a workout that will leave you feeling exhilarated. So, what are you waiting for? Book your private  charter today and enjoy the paddle boards which will be inboard!
Fishing
During our trips, you can also enjoy fishing. While we sail along the coast, we can put our fishing rods into the water for some fun trolling, and perhaps, if luck, you might catch a mackerel, tuna or even a Mahi Mahi.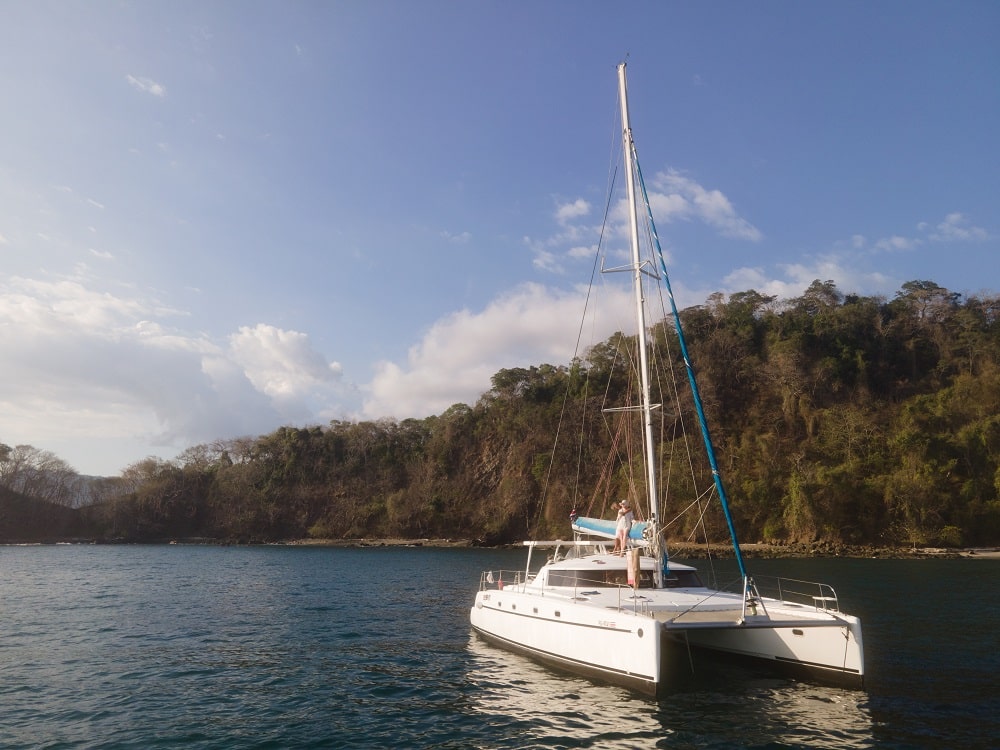 Visiting a secluded beach in Guanacaste
If you're looking for a beautiful and secluded beach to relax on while in the province, look no further than the sail to Papagayo Bay, Conchal, Flamingo, Las  Catalinas,  or other beaches along the Guanacaste coast. This quiet corner of the Pacific is perfect for swimming, sunbathing, and simply taking in the stunning views. And what could be more idyllic than spending a day sailing there on your own private yacht? With crystal-clear waters and uninhabited shores, it's easy to see why this spot is such a favorite amongst vacationers. So if you're looking to get away from it all, make sure to add a  trip in the Pacific Ocean of Costa Rica to your itinerary!
Dolphins and whales
Whales can be seen from August to October and from January to February.
During our charters, you might also see whales and dolphins. These magnificent creatures can be found offshore in the Guanacaste region, making it a popular destination for tourists and nature enthusiasts alike. Charter boats offer excursions to get up close and personal with these amazing animals, providing an adventure you'll never forget.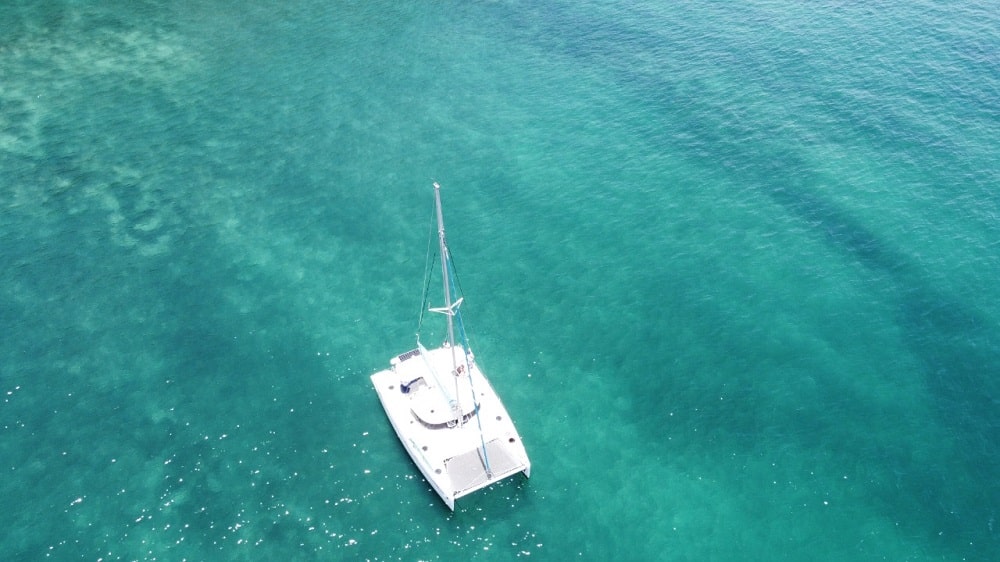 Private catamaran charters
Half day morning catamaran charter
Schedule: 8 30 to 12 30
Included: Open bar, paddle boards, snorkeling,  the best catamarans, friendly and knowledgeable crew, visiting a secluded beach.
Sailing is a great way to spend a vacation morning. The sun is shining, the breeze is blowing, and the water looks inviting. Head to Guanacaste and book a private catamaran charter for a half day of ocean expeditions. You won't regret it!
Is there anything better than spending a day  on the  clear waters ? No matter what your vacation plans are, we highly recommend adding a half day catamaran sailing excursion to your list! Our friendly and experienced crew will take care of everything while you relax and enjoy the stunning scenery. Whether you choose to spend your time swimming, sunbathing, or simply taking in the view, this is one experience you won't want to miss. Book today and let us show you the best of Guanacaste from the water!
Pick up included at all the hotels on the beach.
Private sunset catamaran
Schedule: 2 PM to 6 PM
Included: Open bar, paddle boards, snorkeling,  the best catamarans, friendly and knowledgeable crew, visiting a secluded beach.
No one can resist the call of a good sunset sail. The perfect way to experience all that Guanacaste has to offer, a sunset catamaran sailing tour is a must-do for any vacationer. With beautiful views of the coastline and lovely breezes blowing in your hair, it's an unforgettable experience. Plus, if you charter a private boat, you'll get to explore the area at your own pace and enjoy some peace and quiet away from the crowds. So go ahead and book your spot on one of these amazing tours – you won't regret it!
Full day catamaran charter
Schedule: 10 AM to 6 PM
Included: Open bar, paddle boards, snorkeling,  the best catamarans, friendly and knowledgeable crew, visiting a secluded beach.
Have you ever been on a vacation and wished you could have just another day or two to enjoy everything you didn't have time for? Costa Rica and Guanacaste is the perfect place to go because there's so much to see and do, but if you're short on time, a full day catamaran charter might be just what you need. You can sail around the coast, visit some of the beautiful beaches, and take a swim in the crystal-clear water. It's the perfect way to relax and unwind after a busy week or just to experience something new. If you're interested in booking a charter, contact us today!