Private Catamaran Sailing Charters
We work for all the beaches in the region, including the Papagayo area, including the Papagayo Peninsula and the Gulf of Papagayo. Hotels in Papagayo we work with include Four Seasons Papagayo, Andaz , Planet Hollywood, Secrets , Occidental , El Mangroove , Exclusive Resorts, Papagayo Luxury and several vacation rentals and luxury residences in the region.
Other sailing destinations we sail for include Playa Hermosa, Playa Panama, El Coco, Ocotal, Riu Palace, Riu Guanacaste, Las Catalinas, Potrero Beach, Flamingo Beach and the Flamingo Marina, Conchal Beach, Brasilito, Playa Grande, Tamarindo, Langosta, JW Marriott and Hacienda Pinilla.
How is sailing in Guanacaste ?
Guanacaste is an enchanting province situated in the northwest corner of Costa Rica. It is blessed with some of the most beautiful beaches and crystal clear waters in the entire country. In Guanacaste, you will find a variety of stunning shorelines where you can enjoy activities such as swimming, snorkeling, kayaking, fishing and even sailing. The balmy temperatures make for perfect days on the beach or out at sea.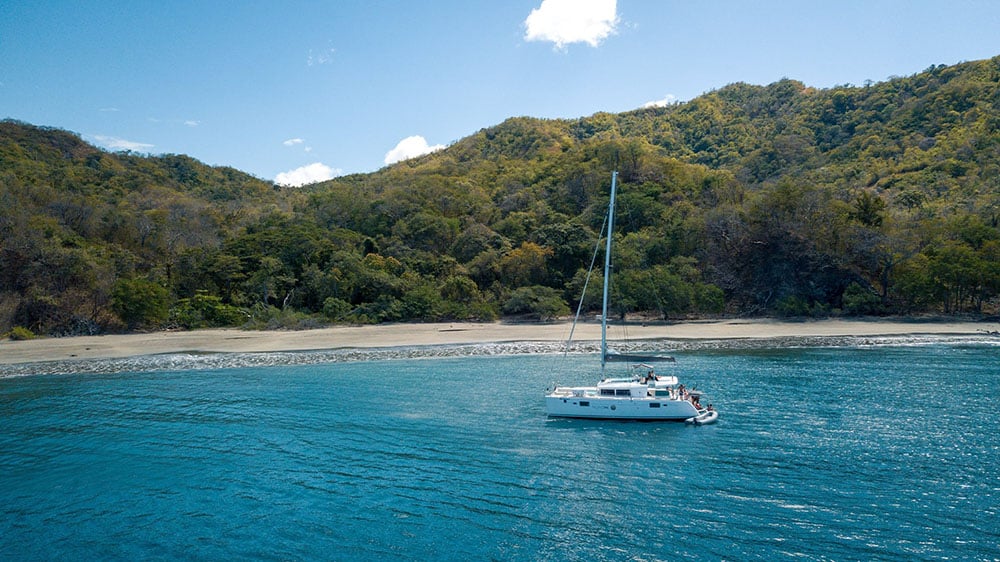 The waters in our province are especially suitable for sailing activities like catamaran charters and private trips to explore the Pacific Ocean. Catamarans provide a perfect balance between stability and speed, making them ideal for getting close to nature and discovering some of the most incredible sights along the region's coastline. Private sailing trips are also popular here, allowing visitors to explore secluded coves and hidden bays filled with fascinating wildlife. These excursions give travelers a unique opportunity to observe everything from dolphins playing nearby to schools of colorful fish swimming nearby.
Guanacaste's serene shorelines have something for everyone - families have plenty of space to spread out on the sand while there are also plenty of areas that offer more seclusion for romantic getaways or solo travelers looking for some time away from it all. Many beach towns feature excellent restaurants serving up local delicacies that can be enjoyed while admiring panoramic views out across the water. There are also plenty of fun activities available including hiking trails through lush rainforests and adventurous ziplining courses that provide stunning views from up high amongst the trees.
Not only does the province boast spectacular scenery but it is home to some truly remarkable marine life too - humpback whales regularly swim through its waters during their annual migration season whilst turtles nest off its shores during certain times throughout the year. Visitors can take boat tours directly from shoreline villages or hire a private vessel in order to get up close with these majestic creatures in their natural habitat - it's an experience not easily forgotten!
For anyone looking for an unforgettable adventure Guanacaste is certainly worth considering - its breathtaking beauty makes it one of Costa Rica's favourite tourist destinations and its crystal clear waters provide endless opportunities to explore its many secrets by sailboat or catamaran charter. Whether you're looking for family fun on sun-drenched beaches or romantic escapes out on tranquil blue seas, this province has everything you need!