Casa Chameleon Hotel  Private Catamaran Sailing
Private charters from Casa Chameleon at Las Catalinas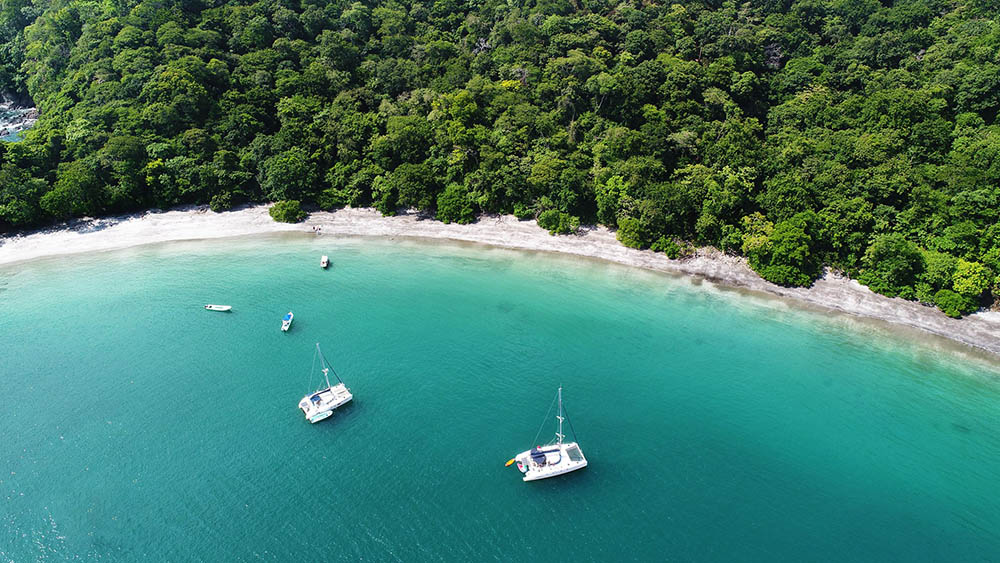 Our private catamaran charters and sailing trips offered from Casa Chameleon Hotel at Las Catalinas. Our charters provide an exquisite and comprehensive experience for guests. Here's an overview of the key features of these private charters:
Private Catamaran Charters:
Beautiful Catamaran:

Guests have the opportunity to sail on a beautiful catamaran, ensuring a comfortable and luxurious experience on the water.

Inclusive Services:

The charter package includes a range of services, covering everything from sailing to recreational activities and refreshments.

Food and Open Bar:

Guests can indulge in a delightful culinary experience with food provided on board. An open bar ensures a selection of refreshing beverages throughout the journey.

Snorkeling Gear:

Snorkeling enthusiasts are equipped with high-quality gear, allowing them to explore the underwater world of the Pacific Ocean in the Las Catalinas area.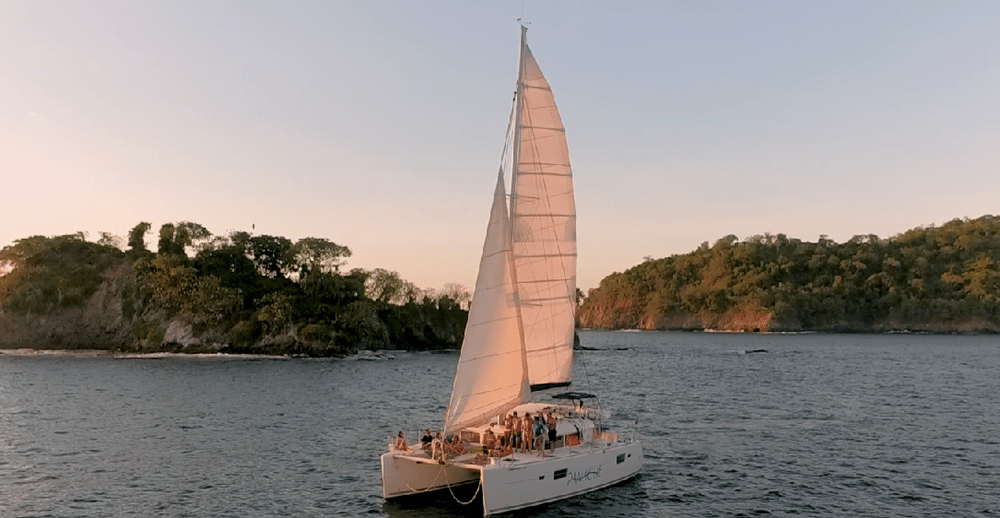 Fishing Rods:

For those interested in fishing, the charter provides fishing rods, offering the chance to engage in angling activities and perhaps catch local marine species.

Paddle Boards:

Paddle boards are available for guests who wish to explore the water in a more active manner. This adds an element of adventure to the sailing experience.

Secluded Beach Visit:

The itinerary includes a visit to a secluded beach, providing guests with a private and tranquil environment to relax, swim, and enjoy the natural beauty of Guanacaste.

Wildlife Encounters:

The charter aims to create opportunities for wildlife encounters. Guests may have the chance to spot dolphins, sea turtles, and other marine life in their natural habitat.

Pristine Guanacaste Nature:

Throughout the journey, guests can admire and connect with the pristine nature of Guanacaste, appreciating the region's biodiversity and scenic landscapes.

Swimming Opportunities:

Whether it's in the open ocean or at a secluded beach, the itinerary likely includes opportunities for guests to enjoy refreshing swims in the warm Pacific waters.
Additional Considerations:
Safety and Professional Crew:

Emphasis should be placed on safety measures, and the catamaran should be staffed with a professional and experienced crew capable of providing an enjoyable and secure experience.

Photography and Memories:

Guests are encouraged to capture the memorable moments of their journey, whether it's the stunning coastal views, underwater scenes, or encounters with marine life.

Communication of Services:

Clear communication about the services included, any additional options, and safety guidelines ensures that guests can fully enjoy their private catamaran charter.
Before booking, guests should confirm the specific details of the charter, including the itinerary, safety measures, and any additional options available. This ensures that the experience aligns with their preferences and expectations.
The availability of private sailing charters during peak seasons, especially in the morning, afternoon, and full-day slots, makes it crucial to secure bookings in advance. Here's a sample description for promoting these private sailing charters:
---
Embark on Your Exclusive Sailing Adventure with Casa Chameleon Hotel!
Unveil the beauty of the Pacific Ocean and the stunning coastlines of Las Catalinas with our private catamaran charters. Whether you're an early riser, a sunset seeker, or someone looking for an all-day maritime experience, we have the perfect sailing option for you.
Morning Sailing Charters (8:00 am - 12:00 pm):
Join us for a serene 4-hour morning sailing charter starting at 8 am. Bask in the morning sun as you sail along the Las Catalinas coast, enjoying the peaceful waters and the beauty of the surrounding nature. Snorkel, fish, or simply relax on the catamaran deck as you make memories that will last a lifetime.
Afternoon Sunset Tours (2:00 pm - 6:00 pm):
Indulge in the magic of a Pacific sunset with our half-day afternoon sailing charters. Departing at 2 pm, this 4-hour journey includes not only the golden hours of the afternoon but also the breathtaking beauty of a Costa Rican sunset. Revel in the colors of the sky as you sip cocktails from our open bar and snack on delicious bites.
Full Day Sailing Experience (10:00 am - 6:00 pm):
For the ultimate maritime adventure, choose our full-day sailing charter from 10 am to 6 pm. Explore the coastlines, snorkel in crystal-clear waters, and visit secluded beaches. Gourmet meals, an open bar, and a chance to spot dolphins and sea turtles make this 8-hour journey an experience like no other.
Book Now - Limited Availability During High Season! Due to high demand during the peak season, securing your private charter in advance is highly recommended. Don't miss the opportunity to create lasting memories on the Pacific waters of Costa Rica.